The Pitch
Finding flat enough land to make a pitch within a forest is no easy task as most forests are planted on hilly and wet land! After many searches, the Forest Pitch team finally found a suitable site in the Scottish Borders, a few miles out of Selkirk. The site is a Spruce plantation belonging to the Buccleuch Estate. The commercially grown Spruce trees have been felled to make way for the pitch, the land levelled and grass sown. All the felled timber has been re-used for the changing room, goal posts, seating, fencing and paths within the site.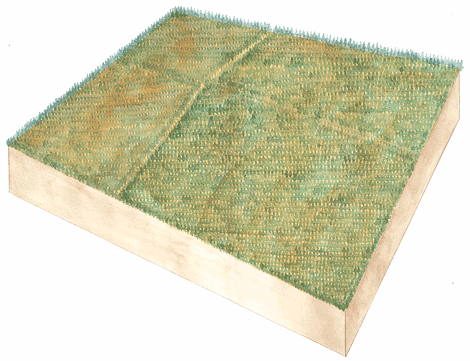 DIRECTIONS TO FOREST PITCH
Forest Pitch is within the Clarilawmuir Plantation, just off the A699 from Selkirk to St Boswells. Entrance to the site is on the south side of the road (centred in map below) along a small forest track. Cars can be parked around a cross roads in the track, approx 200m south. Once at the cross roads, you can walk to the pitch either along the access track to the north of the pitch, or there are two footpaths through the woods which come out to the pitch side. Please respect the environment and take any rubbish away with you. It can get very muddy, and there are no toilet facilities on the site.